Nourish your body and soul retreat: 28th October to 4th November 2023 from just £750
Imagine spending a week in a fabulous riad in the medina of Marrakech.
Imagine spending it with a group of like-minded women.
Imagine a week of activities designed to nourish the body and soul.
Imagine no more!
Come to Mizan Nourish Retreat. You'll love it!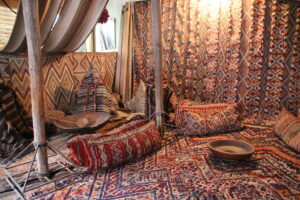 We will stay in a traditional riad in the medina, it's a very peaceful location while still being only a short step from the hustle and bustle of the Jemaa el Fna and the souk.
You'll be able to fully relax in the riad as there will only be women present, and many of our experiences will be led by women. For insurance purposes, a member of staff will be present during the night, and this will be the manager, Khalid. However, he promises to keep a low profile!
Saturday
Arrive on Saturday, settle in, have a rest or embark on your discovery of Marrakech. You can take a taxi from the airport or arrange a transfer with the riad.
There will be a welcome dinner in the evening to get to know each other.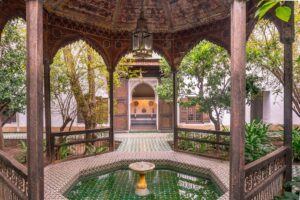 Sunday
"Know Thyself"
Understanding yourself, your body, your needs and your desires is the first step to realising what you, as a whole being, need to be balanced, centred, healthy and content – and it's more straight forward than we are led to believe.
Traditional holistic medicine takes the grounded, common-sense approach – the natural approach. Working with your body, rather than against it.
"Know Thyself" introduces you to an ancient understanding that is increasingly relevant today.
As we search out the truth the first step is to simply ask "what does my body need?" – because knowledge is power.
Delivered by Ainsley Macadam, Unani Tibb Herbalist and Assoc. Naturopath, this course will gift you the elementary tools you need to make informed decisions for you and your family's health.
"It is my belief that we can all aspire to better health and that, more so, we are entitled to do so" Ainsley Macadam mGNC (Assoc.) DipUHM RTGU
This is Ainsley's website: tibbnaturalhealth.com
Monday
Ziyara: In the medina, away from the hustle and bustle, lies a hidden spirituality in the city, the Seven Saints of Marrakesh: Sidi Youssef bin Ali, Qadi Iyad, Sidi Bel Abbas, Shaykh Mohammed ibn Sulayman al-Jazuli, Sidi Abdul Aziz, Sidi Al-Suhayli.
Your experienced guide, Nora, will take you to visit each maqam and give you insight into the life of each saint.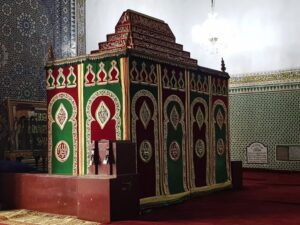 Tuesday
Love Your Womb: Learn about the sacredness of the womb and protecting your womb health.
This is a practical workshop where where we will perform castor oil packs in the morning and pelvic steaming after lunch before having a rest. You will listen to a guided visualisation to connect you with your womb while performing each.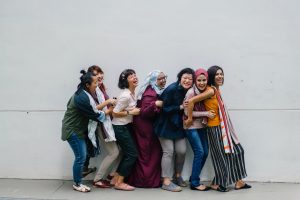 Wednesday
This is a free day for you to explore Marrakech. There's so much to do and so many sights to see. Not to mention the shopping!
Over dinner we will be hosting a female nasheed and drum group.
Thursday
Photography workshop: Join experienced guide and photographer Allal Fadili for some exciting photo opportunities around Marrakech. Create beautiful memories of your trip.
See some of Allal's work here: https://www.facebook.com/Allal.Fadili
Friday
The day is free for shopping and exploration. You have the option to meet at the Koutoubia Mosque for Jumuah prayer and lunch afterwards.
Henna and telling: A visit from a first class henna artist while listening to traditional Moroccan folk tales after dinner.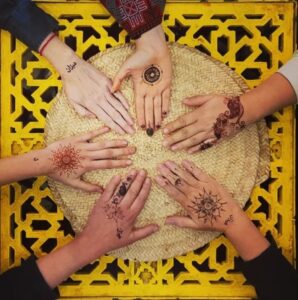 Saturday
Leave on Saturday morning after breakfast.
Every day
You will start each day with a dhikr circle and 45 minutes of somatic movement for womb health followed by breakfast.
Lunch is included on Sunday and Tuesday when you'll be having full day workshops in the riad. When we are out and about we will find somewhere for lunch, and as Wednesday and Friday are free days, we don't want to restrict your activities by pulling you back to the riad so you'll have a chance to sample the local cafes and food stalls.
You have dinner at the riad every night.
Meals at the riad will be traditional Moroccan vegetarian.
All this from only £750.

Optional additions
Mizan treatment from Bushra, Ainsley and Sofya.
To keep the price as low as possible, rooms are shared. If you would like single occupancy there will be a surcharge of £150 for the week.
Where you'll stay: https://www.riadleila.com
We're still finalising the full programme so it may be subject to change.