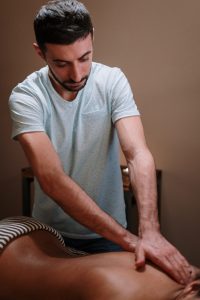 "It's really been an eye-opener. I learnt so much and it's made me look at things in a whole new way in regards to healing"
Mizan Practitioner Training has been a celebrated event for women since 2014. Now it's the turn for the men.
Just as we've been successfully facilitating courses for women only, this course is only for men. This will enable men whose religious beliefs place boundaries on physical touch between the sexes to fully participate, as well as those men who simply prefer to work with other men or who have no interest in treating women.
All the male trainings will be facilitated by Bushra and working alongside her will be her Mizan-trained husband Shabaaz.
With so much focus on female reproductive health, it's all too easy to forget the men. Even if there are no actual known problems, men provide 50% of the genetic material so it makes sense that they are in optimum health before trying to conceive a baby. New research is showing that while the focus is often on the women's, the problem for 40% of couples can be traced to the man.
Men often find themselves suffering from stress and anxiety which can lead to digestive issues. Mizan can help here as well.
Mizan stands on the three bases of transmission, transaction and transformation. Transmission, because a certain amount of information needs to be passed on; transaction, creating interaction with the learning in order to construct new knowledge, and then transformation, creating the potential to transform on many different levels: cognitive, emotional, intuitive, creative and spiritual.
There will be some pre-course work to prepare you for the week of practical training, and some post-course work to finish with. Your practical massage skills will be assessed at the end of the week. In all it will be at around 100 hours of study and practical experience.
What does the course cover?
Online pre-course work
Anatomy and physiology of the pelvis
Male and female reproductive health
Fertility problems
Safely performing the treatment on clients
Releasing tension in the sacrum
Releasing tension in the diaphragm
Aiding and supporting emotional release
Knowing when and how to use castor oil packs
Herbal formulations for male reproductive health
What does the course give you?
A burning desire to improve men's health
A comprehensive course manual
All the forms you need to start out as a practitioner
First year's membership of the Mizan Foundation
Extended practitioner listing on the website
Three months of mentoring while working on case studies
Support of other practitioners via the Mizan forum
Who is this course for?
Absolutely anyone. You do not need to have any previous experience of massage as the course will teach you everything you need to work with confidence.