I receive many emails asking me to explain Mizan training. So I thought it might be a good idea to put a few thoughts about Mizan practitioner training into words.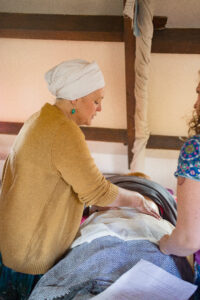 It is surprisingly tough to describe the ethos of the training, there are many facets, each of which will connect to different women in different ways, or at different times.
The first thing to say is that anyone can put on a training. It doesn't actually take much more than hard work and commitment. There's a lot of admin, most of which is pretty boring. This aspect is a means to an end for me, I view it as the bridge I need to traverse to arrive at the most rewarding part: working with you, the most incredible women. That is the part which fires me, that makes the blood course through my body, awakens my soul and makes my heart sing. It sends a warm wave of energy through me, simply thinking about it.
And it's where the multi-facets come in.
The first thing that is important to me is building a sisterhood, a community of women who will nourish each other, support our sisters on the path that is life: hold her hand when it's needed; walk by her side when the going gets tough; keep her focussed and remind her of the way when it becomes too dark to see; be a listening ear or sounding board; cherish hopes and dreams; love and nurture each other. That's why I put on Mizan practitioner trainings.
It's the reason I prefer residential over non-residential – something very special happens during the course when a group of women come together to learn, live, eat and play. It builds bonds between diverse groups of women who would not usually cross paths; women of all faiths and backgrounds who begin the week with nothing in common but a desire to do this important women's work, leaving at the end of the week as family.
I said that anyone can organise a training course. It's true, look at how many there are out there. But transformational knowledge is a different thing; this is deep soul work, it is inspiring others to dive into themselves, to draw on their experience to add to the transmitted knowledge and learn that which is not yet known. It honours everyone and their life journey to date, and brings us together to build a body of knowledge that is greater than the sum of its parts.
In homoeopathy, there is the three legged stool rule; as long as a remedy is indicated for three main symptoms, it will be helpful. Mizan also relies on a three legged stool: transmission, transaction and transformation. Transmission, because a certain amount of information needs to be passed on; transaction, creating interaction with the learning in order to construct new knowledge, and then transformation, creating the potential to transform on many different levels: cognitive, emotional, intuitive, creative and spiritual.
If this makes you want to join us, see the dates of future courses here.
Email bushra@mizantherapy.com for more details.